Technology Integration in Instructional Practices – Online Learning Tools for Teaching: Using Google Classroom and Google Meet
Luta Sur National High School | Malvar, Batangas | March 4, 2023​
The Tulong Aral Caravan recently organized an outreach activity focused on technology integration in instructional practices. The goal was to equip educators with the necessary tools to enhance their teaching using online learning platforms, particularly Google Classroom and Google Meet.
Google Classroom has transformed the way teachers manage assignments, communicate with students, and deliver content. The caravan emphasized the importance of utilizing this platform effectively, allowing educators to create virtual classrooms, engage students, and foster collaboration.
In addition to Google Classroom, the caravan highlighted the benefits of Google Meet for live classes, virtual discussions, and one-on-one interactions. With features like video conferencing and screen sharing, teachers can create interactive learning environments and bridge the gap between physical and virtual classrooms.
By integrating these online learning tools, educators can overcome geographical barriers, reach a broader audience, and provide flexible learning opportunities. Students benefit from personalized learning experiences, access to diverse resources, and increased engagement through multimedia content.
The Tulong Aral Caravan's outreach activity also focused on building digital literacy skills among participants. Recognizing the importance of digital proficiency, the caravan aimed to equip educators with the ability to navigate digital platforms effectively. This ensures they can foster digital citizenship, critical thinking, and problem-solving skills among their students.
This outreach activity aimed to empower educators with online learning tools. By embracing platforms like Google Classroom and Google Meet, teachers can create engaging virtual classrooms, deliver personalized instruction, and equip students with essential digital literacy skills. Through this initiative, the caravan seeks to make education adaptable, inclusive, and impactful in an increasingly digital world.
Technology Integration in Instructional Practices – Blended Learning and Flipped Classroom / Cybercrimes in the education Settings
Luta Sur National High School | Malvar, Batangas | October 15, 2022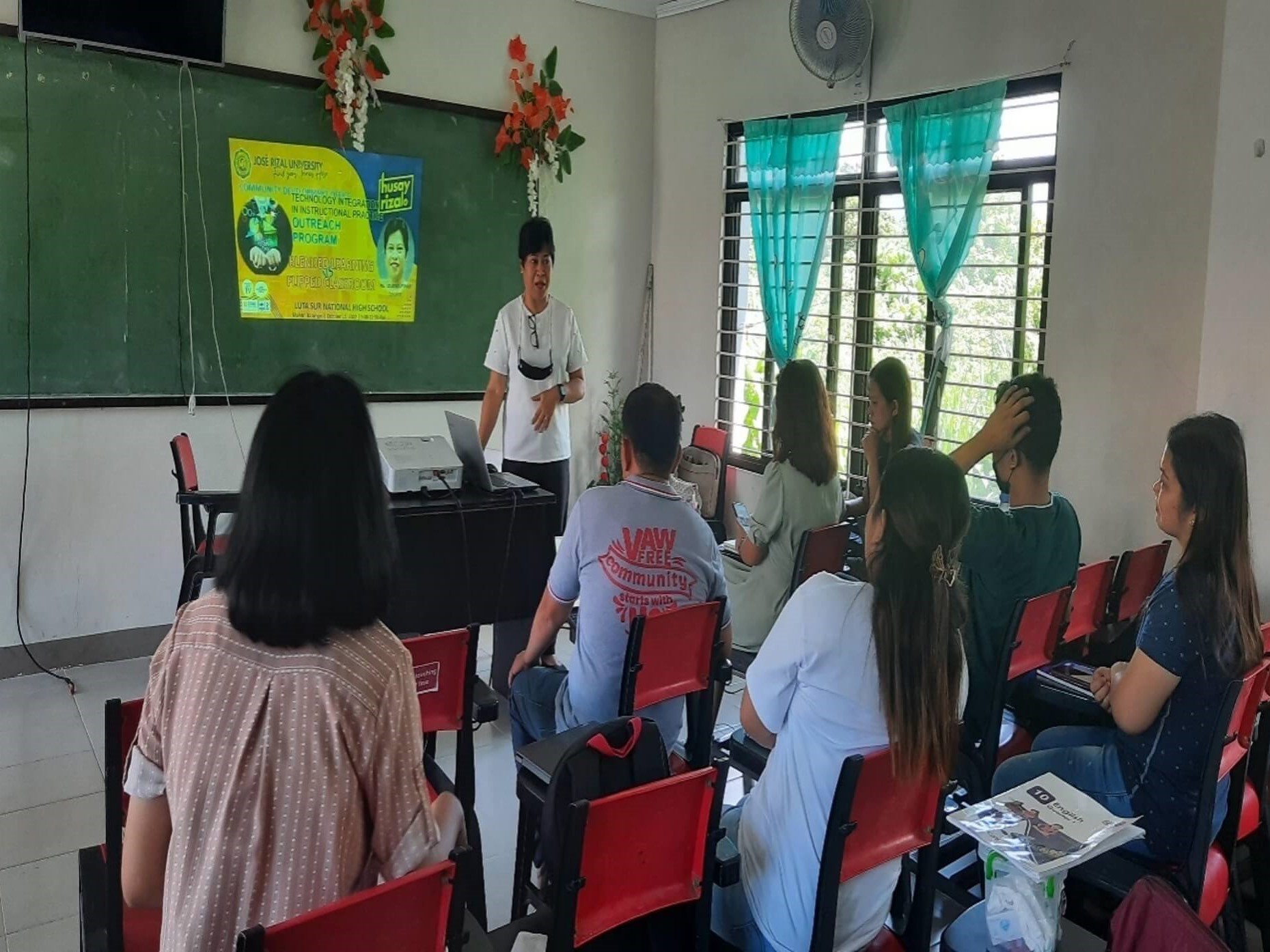 This initiative aims to empower educators with innovative approaches that optimize student engagement and learning outcomes.
Blended learning combines traditional face-to-face instruction with online resources and activities. The Tulong Aral Caravan recognizes the benefits of this approach and equips educators with strategies to create a harmonious blend of in-person and virtual learning experiences. By leveraging digital tools and resources, teachers can personalize instruction, provide supplemental materials, and facilitate interactive activities that cater to different learning styles.
The flipped classroom model flips the traditional approach to instruction, where students engage with instructional content outside the classroom, usually through videos or online modules, and then utilize class time for collaborative activities, discussions, and deeper exploration of the subject matter. The Tulong Aral Caravan highlights the advantages of this model and guides educators on how to effectively implement it. By allowing students to learn at their own pace and providing opportunities for active learning during class, the flipped classroom promotes deeper understanding and critical thinking.
In addition to focusing on blended learning and the flipped classroom, the Tulong Aral Caravan addresses the crucial issue of cybercrimes in educational settings. As technology becomes more prevalent in classrooms, educators and students need to be aware of the potential risks and challenges posed by cybercrimes. The caravan provides valuable insights on how to promote online safety, protect personal information, and address cyberbullying and other digital threats within the educational context. By fostering a safe and secure digital environment, educators can ensure the well-being of their students and create a positive online learning experience.
This outreach activity on technology integration in instructional practices, with a focus on blended learning and the flipped classroom model, highlights innovative approaches to enhance student engagement and learning outcomes. By embracing these methodologies, educators can create dynamic learning environments that cater to diverse learning styles and promote deeper understanding. Moreover, the caravan's emphasis on addressing cybercrimes in educational settings ensures that students can navigate the digital landscape safely and responsibly. Through this initiative, the Tulong Aral Caravan aims to advance instructional practices and empower educators to embrace the potential of technology in education.